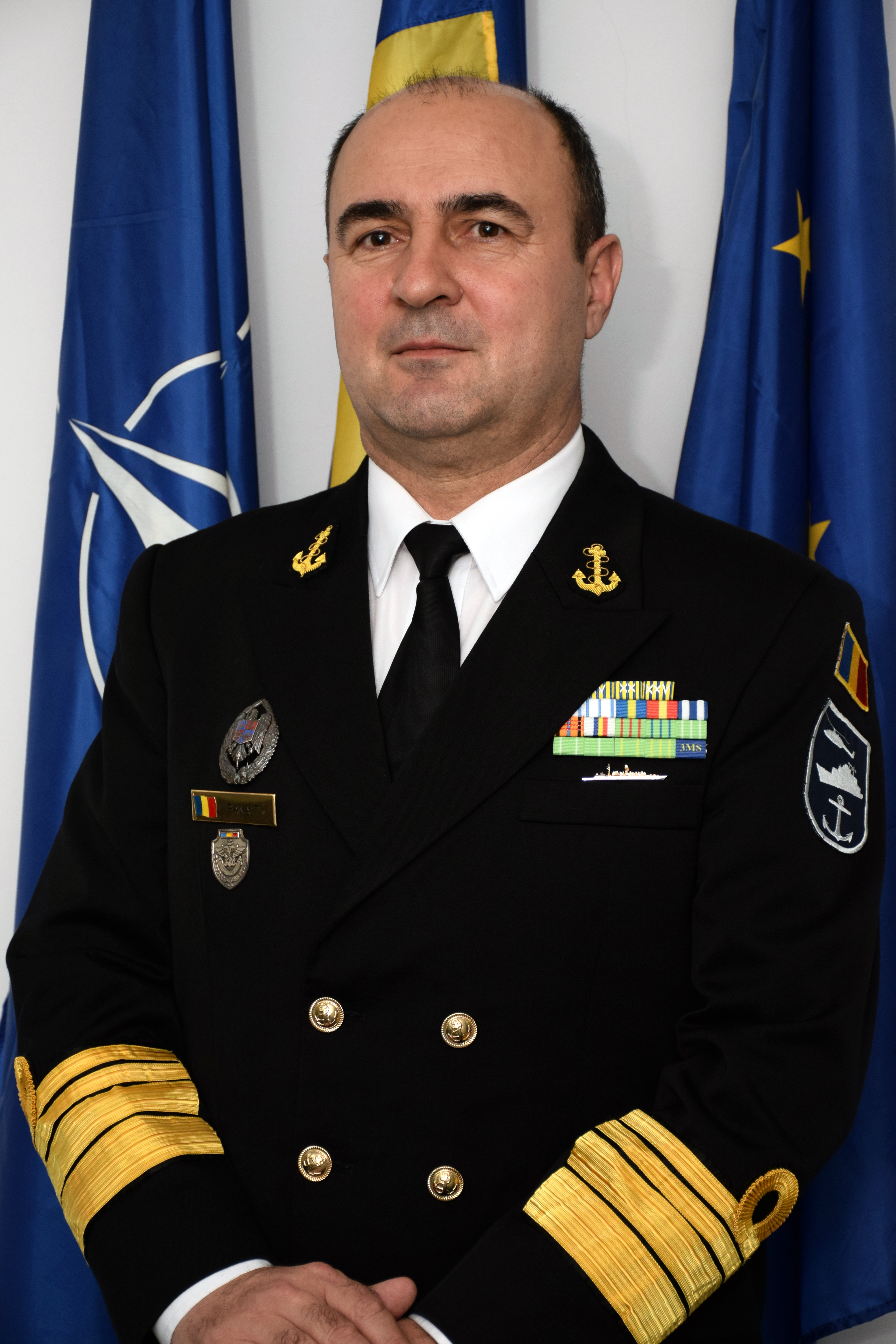 FLEET COMMANDER

Rear Admiral (UH)
Mihai PANAIT
Rear Admiral (Upper Half) Mihai PANAIT, a native of Titesti, Arges, was born on 27th of March 1968.

Commissioned in 1991 as a lieutenant junior grade, his first assignments onboard ships were as minesweeper operations department head and later on as executive officer.

At squadron and brigade level, he served as operations officer, followed by the same position at brigade level. Upon National Defence University graduation, he was appointed commanding officer of minelayer "IOAN MURGESCU" (271), chief of staff and deputy commanding officer of MCM squadron.

From 2009 to 2013 he commanded "REGELE FERDINAND" (221) frigate while being deployed in various NATO and EU operations such as Active Endeavour (2010), Unified Protector (2011) and Atalanta (2012).

Additionally, Rear Admiral (UH) PANAIT was a Romanian Task Group commander during its first activation in 2013 and also in 2014 and 2016.

As a staff officer, he performed duties as head of EOD and Force Protection operations office to Naval Operational Component Command and deputy chief of staff for training to Fleet Command.

His first assignment as flag officer was as chief of staff of the Fleet Command and subsequently, he was promoted on December 01st 2017 to the rank of Rear Admiral (LH).

On August 1st 2019 he was assigned as Fleet Commander and on 1st Decembre promoted to Rear Admiral (UH).

From January 1st 2018 he was acting Deputy Chief of the Romanian Naval Forces for Operations and Training, being appointed from June 15th 2018.

On August 1st 2019 he was promoted as Fleet Commander.

A surface warfare officer by trade, he graduated from the "Mircea cel Batran" Naval Institute in 1991. His post graduation education includes Command Team Training Programme in Den Helder, NLD (2005), Naval Command College in Newport, Rhode Island, USA (2009), Joint Strategic Leadership Course in National Defence University "Carol I", Bucharest (2014), Combined Force Maritime Component Commanders Flag Course in Naples, Italy (2017). He also graduated several career courses in Romania or abroad in the area of staff duties, units and brigade level command, security and good governance.

Rear Admiral (UH) PANAIT is a veteran of theatre of operations and has received during his career various national and international awards and titles, among them "Emblem of Honour" from General Staff (2007); "Honourable Citizen", Rhode Island State, USA" (2008); "Maritime Virtue" Order – Captain and Knight (2011); "Participant in International Missions", Operation Unified Protector (2011); the Officer of the year 2011 from Romanian Navy; the Officer of the year 2012 from Romanian General Staff; "Emblem of Honour" from Naval Forces (2012); "The Common Security and Defence Policy Service" E.U. medal (2012); "Emblem of Honour" from Air Forces (2018); "Emblem of Honour" from Land Forces (2019).

He is married and has one daughter.