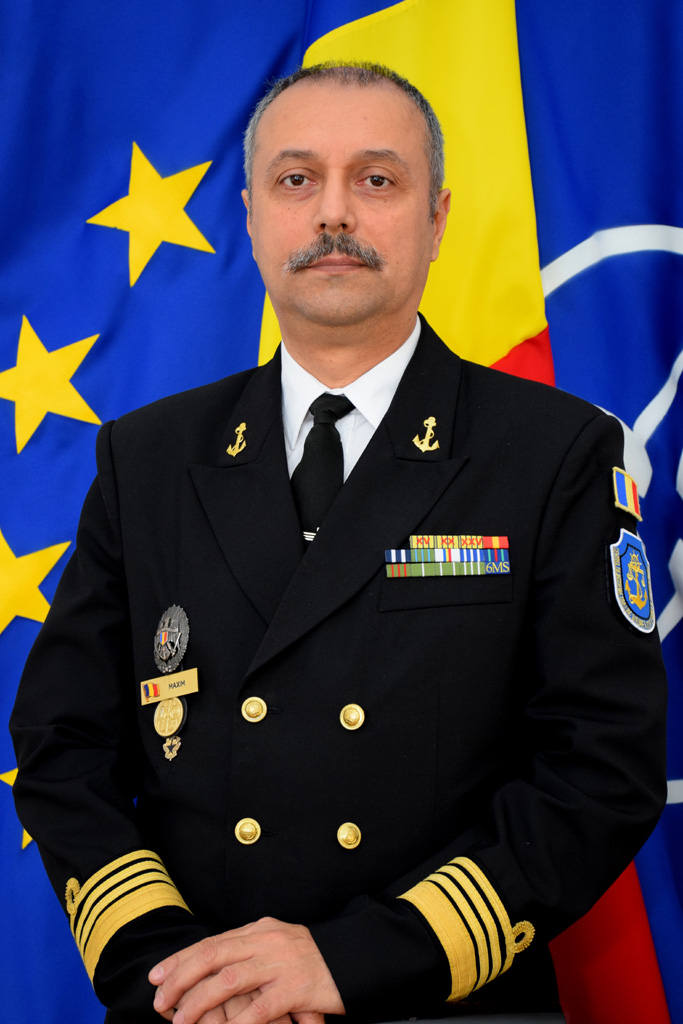 Navy`S Training, Simulation, Evaluation and War Gaming Centre Commander

Captain
Valentin MAXIM

Captain Valentin MAXIM was born in 01.06.1973, Medgidia town CONSTANTA county.

In 1991 joined the Naval Academy and graduated in 1996. His first assignment was in a Defence Coastal Battery as a platoon commander. 2 years after he got promoted as executive officer in the DCOS support department of the Defence Coastal Battery command staff.

Since 2001 to 2010 he has performed in executive and command positions such as chief of ammunition department to DCOM of Depot Navy facility 340.

In 2001 he graduates the advanced course of naval combat procedures and between 2004 to 2006 he gets a master degree in European Public Affairs. Same year he completes a training course in Logistics System Management. The year 2008 finds him in the US Army Logistic Management College where he completes the Theatre Logistic Studies course and receives recognition from Society of Logisticians.

Between 2010 and 2012 he fulfills duty as Chief of staff in the Logistic Battalion 330 and starting 2012 he is assigned as chief of evaluation department in NSEC.

From 2015 up to August 2019 officer fulfils duty in Joint Force Command Brunssum as staff officer in the logistic division plans section. He is awarded SACEUR`s recognition award in 2018 for its outstanding performance in JFC Brunssum as well as for NATO Enduring Partnership mission in Afghanistan and multiple training mission in support of NATO Oberamergau School. Upon his redeployment he is assigned as DCOM position in NSEC (at that time) and enrolls in Staff College to complete its education. Throughout the next 2 years he follows and graduates this school and starting with august 2021 he is firstly assigned as acting COM of NSEC and from 01.04.2022 as COM of the new NSEWGC.

To appreciate his efforts Chief of Navy awarded him in summer 2021 with the Navy`s recognition award.