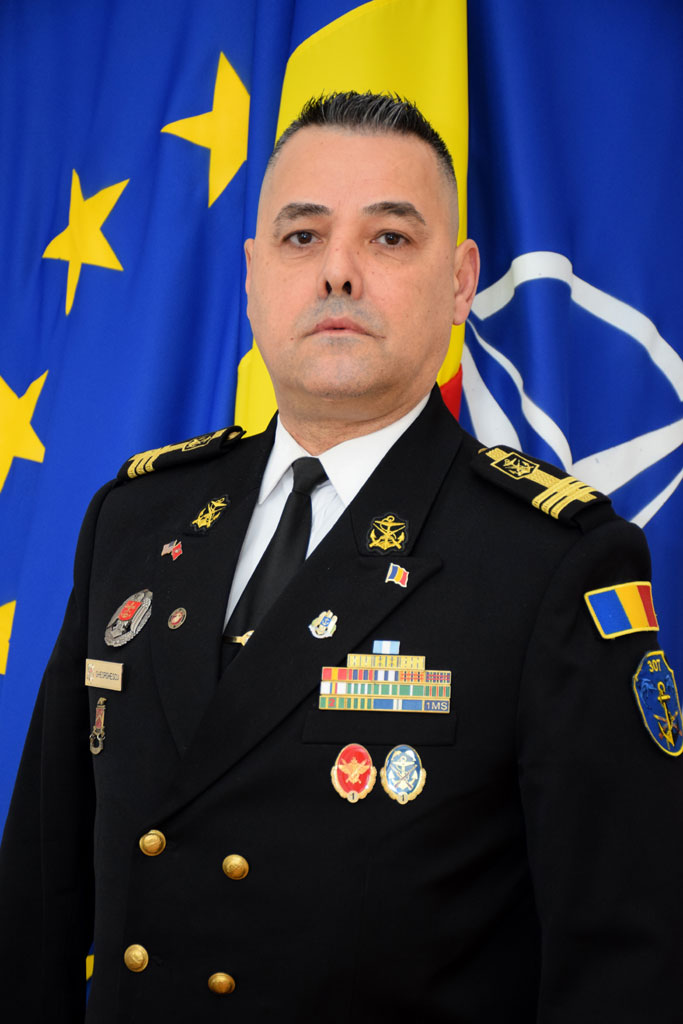 Commander of 307 Marine Battalion

Colonel
Marius GHEORGHESCU
(2020 -)
He was born in Caransebeș, CARAS-SEVERIN County, on 13.12.1970. He graduated from the 'Tudor Vladimirescu' Military High School in CRAIOVA in 1989 and from the 'IOAN VODA' Military Institute of Field Artillery and Geodesy, as a FA officer in 1992, and was assigned to the 36th Naval Infantry Regiment as a FA platoon leader.

From 1995 to 1999 he worked at the 365th Artillery Battalion, where he served as a FA battery commander.

From 1999 to 2003 he served Logistic Officer and S.3 – ACOS for Operations and Training in the 361st Infantry Battalion.

Since 2005, he has served in the 307th Naval Infantry Battalion, successively holding the positions of Staff Officer in Operations and Training /N.3 Section, ACOS for Operations and Training and Deputy Commander of Battalion.

In 2008 he was Commanding Officer of ROFN XVI Detachment rotation for 7 months in the KFOR Peacekeeping Force in Kosovo, the first mission of RO Marines abroad under NATO command.

On 01.11.2020 he was appointed Commanding Officer of the 307th Naval Infantry Regiment.

To complete his professional training he attended several career and specialization courses:
- Marine Command and Staff College - United States of America, Quantico, Virginia, 2014;
- Joint Leadership Master's Degree Program, specializing in Joint Leadership - Ground Forces, Infantry Weapon, 2019.
In recognition of his professionalism and outstanding career achievements, he was awarded the following orders and medals:

- Honorary Badge in the Service of the Fatherland;
- The merit badge "In the Service of the Romanian Army", class II;
- Emblem of Honor of the Romanian Army;
- Emblem of Honor of the Land Forces;
- Emblem of Honor of the Naval Forces.